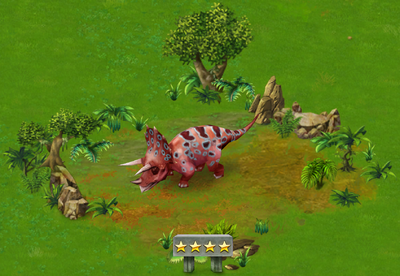 Battle weakness : Charge
Battle Class : Bronze
Triceratops is a genus of herbivorous dinosaur that first appeared about 68 million years ago in North America. First specimen is discovered in USA near Denver, Colorado in 1887.
Information
Cost and Time to Hatch
Availability
Market
DNA Research
N/A x10
Placement Cost
200
Incubation Time
00:12:00
XP
2
Dimensions
7x7

Initial Message: The Triceratops had a 6 feet long frill, that's as big as a tall person!

First Evolution Message: The Triceratops was one of the last dinosaurs to disappear from the surface of the Earth.

Second Evolution Message: The Triceratops could charge predators with its 3 striking horns, one above its mouth and 2 above its head.

Third Evolution Message: The name Triceratops means "three-horned face" in Greek.
Level-Based Stats
| Level | Unmodified Earning Rates (5 Min) | Feeding Costs (Crops) | Ferocity | Life | Attack |
| --- | --- | --- | --- | --- | --- |
| 1 | 100 (1,250 / Hour) | 10 (x5 = 50) |  ? | N/A | N/A - N/A |
| 2 | 110 (1,375 / Hour) | 16 (x5 = 80) |  ? | N/A | N/A - N/A |
| 3 | 120 (1,500 / Hour) | 23 (x5 = 115) |  ? | N/A | N/A - N/A |
| 4 | 130 (1,625 / Hour) | 29 (x5 = 145) |  ? | N/A | N/A - N/A |
| 5 | 141 (1,763 / Hour) | 36 (x5 = 180) | 2 | 13 | 2 - 14 |
| 6 | 151 (1,888 / Hour) | 42 (x5 = 210) | 2 | 15 | 2 - 14 |
| 7 | 161 (2,013 / Hour) | 49 (x5 = 245) | 2 | 18 | 2 - 14 |
| 8 | 171 (2,138 / Hour) | 56 (x5 = 280) | 3 | 20 | 2 - 14 |
| 9 | 182 (2,275 / Hour) | 62 (x5 = 310) | 3 | 23 | 2 - 14 |
| 10 | 192 (2,400 / Hour) | Evolve: 700 per attempt | 3 | 25 | 3 - 21 |
| 11 | 202 (2,525 / Hour) | 75 (x5 = 375) | 3 | 28 | 3 - 21 |
| 12 | 212 (2,650 / Hour) | 82 (x5 = 410) | 4 | 30 | 3 - 21 |
| 13 | 223 (2,788 / Hour) | 88 (x5 = 440) | 4 | 33 | 3 - 21 |
| 14 | 233 (2,913 / Hour) | 95 (x5 = 475) | 4 | 35 | 3 - 21 |
| 15 | 243 (3,038 / Hour) | 102 (x5 = 510) | 4 | 38 | 4 - 28 |
| 16 | 253 (3,163 / Hour) | 108 (x5 = 540) | 5 | 40 | 4 - 28 |
| 17 | 264 (3,300 / Hour) | 115 (x5 = 575) | 5 | 43 | 4 - 28 |
| 18 | 274 (3,425 / Hour) | 121 (x5 = 605) | 5 | 45 | 4 - 28 |
| 19 | 284 (3,550 / Hour) | 128 (x5 = 640) | 6 | 48 | 4 - 28 |
| 20 | 294 (3,675 / Hour) | Evolve: 2,150 per attempt | 6 | 50 | 6 - 36 |
| 21 | 305 (3,813 / Hour) | 141 (x5 = 705) | 6 | 53 | 6 - 36 |
| 22 | 315 (3,938 / Hour) | 148 (x5 = 740) | 6 | 55 | 6 - 36 |
| 23 | 325 (4,063 / Hour) | 154 (x5 = 770) | 7 | 58 | 6 - 36 |
| 24 | 335 (4,188 / Hour) | 161 (x5 = 805) | 7 | 60 | 6 - 36 |
| 25 | 346 (4,325 / Hour) | 167 (x5 = 835) | 7 | 63 | 7 - 43 |
| 26 | 356 (4,450 / Hour) | 174 (x5 = 870) | 7 | 65 | 7 - 43 |
| 27 | 366 (4,575 / Hour) | 181 (x5 = 905) | 8 | 68 | 7 - 43 |
| 28 | 376 (4,700 / Hour) | 187 (x5 = 935) | 8 | 70 | 7 - 43 |
| 29 | 387 (4,838 / Hour) | 194 (x5 = 970) | 8 | 73 | 7 - 43 |
| 30 | 397 (4,963 / Hour) | Evolve: 3,500 per attempt | 8 | 75 | 8 - 50 |
| 31 | 407 (5,088 / Hour) | 207 (x5 = 1,035) | 9 | 78 | 8 - 50 |
| 32 | 417 (5,213 / Hour) | 213 (x5 = 1,065) | 9 | 80 | 8 - 50 |
| 33 | 428 (5,350 / Hour) | 220 (x5 = 1,100) | 9 | 83 | 8 - 50 |
| 34 | 438 (5,475 / Hour) | 227 (x5 = 1,135) | 10 | 85 | 8 - 50 |
| 35 | 448 (5,600 / Hour) | 233 (x5 = 1,165) | 10 | 88 | 9 - 57 |
| 36 | 459 (5,738 / Hour) | 240 (x5 = 1,200) | 10 | 90 | 9 - 57 |
| 37 | 469 (5,863 / Hour) | 246 (x5 = 1,230) | 10 | 93 | 9 - 57 |
| 38 | 479 (5,988 / Hour) | 253 (x5 = 1,265) | 11 | 95 | 9 - 57 |
| 39 | 489 (6,113 / Hour) | 260 (x5 = 1,300) | 11 | 98 | 9 - 57 |
| 40 | 500 (6,250 / Hour) | MAX | 11 | 100 | 10 - 64 |
Total Crops to Max: 24,215
Tournament/Battle Arena Profile Pictures
Dinosaur in Action
Pictures Level By Level