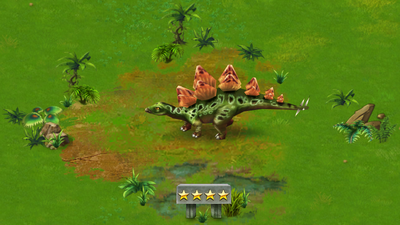 Stegosaurus is a genus of armoured stegosaurid dinosaur. They lived during the Late Jurassic period, some 155 to 150 mya in what is now western North America. In 2006, a specimen of Stegosaurus was announced from Portugal, showing they were present in Europe as well. Due to its distinctive tail spikes and plates, Stegosaurus is one of the most recognizable dinosaurs. At least three species have been identified in the upper Morrison Formation and are known from the remains of about 80 individuals.
Battle Weakness: Charge
Battle Class: Gold
Information
Cost and Time to Hatch
Availability
Market
DNA Research
promotional
Placement Cost
240
Incubation Time
14:27:00
XP
1,833
Dimensions
7x7

Initial Message: The name of the Stegosaurus means "covered lizard", because of the bony plates on its back.

First Evolution Message: Some scientists believed that the plates on the Stegosaurus back may have been used to release or collect heat.

Second Evolution Message: Four sharp spikes that were attached to its tail allowed the Stegosaurus to defend itself by swiping it.

Third Evolution Message: The brain of the Stegosaurus was the size of a walnut, which is surprisingly small for an animal of its stature.
Level-Based Stats
| Level | Unmodified Earning Rates (3 Hrs) | Feeding Costs (Crops) | Ferocity | Life | Attack |
| --- | --- | --- | --- | --- | --- |
| 1 | 4,155 (1,385 / Hour) | 415 (x5 = 2,075) |  ? | N/A | N/A - N/A |
| 2 | 4,581 (1,527 / Hour) | 688 (x5 = 3,440) |  ? | N/A | N/A - N/A |
| 3 | 5,007 (1,669 / Hour) | 962 (x5 = 4,810) |  ? | N/A | N/A - N/A |
| 4 | 5,433 (1,811 / Hour) | 1,235 (x5 = 6,175) |  ? | N/A | N/A - N/A |
| 5 | 5,859 (1,953 / Hour) | 1,509 (x5 = 7,545) |  ? | 987 | 54 - 324 |
| 6 | 6,285 (2,095 / Hour) | 1,782 (x5 = 8,910) |  ? | 1,185 | 63 - 381 |
| 7 | 6,711 (2,237 / Hour) | 2,055 (x5 = 10,275) |  ? | 1,382 | 74 - 446 |
| 8 | 7,137 (2,379 / Hour) | 2,329 (x5 = 11,645) |  ? | 1,579 | 85 - 511 |
| 9 | 7,563 (2,521 / Hour) | 2,602 (x5 = 13,010) |  ? | 1,777 | 96 - 576 |
| 10 | 7,989 (2,663 / Hour) | Evolve: 8,900 per attempt |  ? | 1,974 | 106 - 640 |
| 11 | 8,418 (2,806 / Hour) | 3,149 (x5 = 15,745) | 300 | 2,171 | 117 - 705 |
| 12 | 8,844 (2,948 / Hour) | 3,422 (x5 = 17,110) | 331 | 2,369 | 127 - 763 |
| 13 | 9,270 (3,090 / Hour) | 3,696 (x5 = 18,480) | 358 | 3,565 | 138 - 828 |
| 14 | 9,696 (3,232 / Hour) | 3,969 (x5 = 19,845) | 386 | 2,764 | 148 - 892 |
| 15 | 10,122 (3,374 / Hour) | 4,242 (x5 = 21,210) | 413 | 2,961 | 159 - 957 |
| 16 | 10,548 (3,516 / Hour) | 4,516 (x5 = 22,580) | 441 | 3,158 | 170 - 1,022 |
| 17 | 10,974 (3,658 / Hour) | 4,789 (x5 = 23,945) | 468 | 3,356 | 181 - 1,087 |
| 18 | 11,400 (3,800 / Hour) | 5,062 (x5 = 25,310) | 496 | 3,553 | 190 - 1,144 |
| 19 | 11,826 (3,942 / Hour) | 5,336 (x5 = 26,680) | 524 | 3,750 | 201 - 1,209 |
| 20 | 12,252 (4,084 / Hour) | Evolve: 17,200 per attempt | 551 | 3,948 | 212 - 1,274 |
| 21 | 13,121 (4,374 / Hour) | 5,883 (x5 = 29,415) | 579 | 4,145 | 223 - 1,339 |
| 22 | 13,562 (4,521 / Hour) | 6,156 (x5 = 30,780) | 606 | 4,342 | 234 - 1,404 |
| 23 | 13,530 (4,510 / Hour) | 6,429 (x5 = 32,145) | 634 | 4,540 | 244 - 1,468 |
| 24 | 13,956 (4,652 / Hour) | 6,703 (x5 = 33,515) |  ? | 4,737 | 254 - 1,526 |
| 25 | 14,382 (4,794 / Hour) | 6,976 (x5 = 34,880) |  ? | 4,935 | 265 - 1,591 |
| 26 | 14,808 (4,936 / Hour) | 7,249 (x5 = 36,245) |  ? | 5,132 | 276 - 1,656 |
| 27 | 15,234 (5,078 / Hour) | 7,523 (x5 = 37,615) |  ? | 5,329 | 286 - 1,720 |
| 28 | 15,660 (5,220 / Hour) | 7,796 (x5 = 38,980) |  ? | 5,527 | 297 - 1,785 |
| 29 | 16,086 (5,362 / Hour) | 8,070 (x5 = 40,350) |  ? | 5,724 | 308 - 1,850 |
| 30 | 16,512 (5,504 / Hour) | Evolve: 18,500 per attempt |  ? | 5,921 | 318 - 1,908 |
| 31 | 16,941 (5,647 / Hour) | 8,616 (x5 = 43,080) | 854 | 6,119 | 328 - 1,972 |
| 32 | 17,367 (5,789 / Hour) | 8,890 (x5 = 44,450) |  ? | 6,316 | 339 - 2,037 |
| 33 | 17,793 (5,931 / Hour) | 9,163 (x5 = 45,815) |  ? | 6,513 | 350 - 2,102 |
| 34 | 18,219 (6,073 / Hour) | 9,436 (x5 = 47,180) |  ? | 6,711 | 361 - 2,167 |
| 35 | 18,645 (6,215 / Hour) | 9,710 (x5 = 48,550) |  ? | 6,908 | 372 - 2,232 |
| 36 | 19,071 (6,357 / Hour) | 9,983 (x5 = 49,915) |  ? | 7,106 | 381 - 2,289 |
| 37 | 19,497 (6,499 / Hour) | 10,257 (x5 = 51,285) |  ? | 7,303 | 392 - 2,354 |
| 38 | 19,923 (6,641 / Hour) | 10,530 (x5 = 52,650) |  ? | 7,500 | 403 - 2,419 |
| 39 | 20,349 (6,783 / Hour) | 10,803 (x5 = 54,015) |  ? | 7,698 | 414 - 2,484 |
| 40 | 20,775 (6,925 / Hour) | MAX | 1,102 | 7,895 | 424 - 2,548 |
Total Crops to Max: 1,009,655
Dates of Availability/Sale In The Game:
Used to be available at least once or more before following dates, i.e. this animal is not available for the first time on sale eve
Tournament/Battle Arena Profile Pictures
Dinosaur in Action
Pictures Level By Level