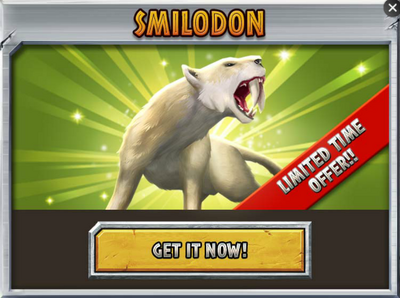 Battle Weakness: Swipe
Battle Class: Gold
Smilodon, is an extinct genus of machairodont felid. It is perhaps one of the most famous prehistoric mammals, and the best known saber-toothed cat. Although commonly known as the saber-toothed tiger, it was not closely related to the tiger of other modern cats. Smilodon lived in Americas during Pleistocene epoch (2.5 mya-10,000 years ago). The genus was named in 1842, based on fossils from Brazil.
Three species are recognized today: S. gracilis, S. fatalis and S. populator. The two latter species were probably descended from S. gracillis, which iteself probably evovled from Megantereon. The largest collection of Smilodon fossils have been obtained from the La Brea Tar Pits.
Information
Cost and Time to Hatch
Availability
Limited
DNA Research
x10
Placement Cost
299,150
Incubation Time
22:03:00
XP
2,992
Dimensions
8x8

Initial Message: The name Smilodon means "Saber Tooth" in Greek.

First Evolution Message: The purpose of the Smilodon's fangs is still a mystery.

Second Evolution Message: The fangs of the Smilodon could reach a foot long or the same size as a foot long sub.

Third Evolution Message: The Smilodon hunted its prey by jumping on them from the low branches of a tree.
Level-Based Stats
| Level | Unmodified Earning Rates (7 Hrs) | Feeding Costs (Meat) | Ferocity | Life | Attack |
| --- | --- | --- | --- | --- | --- |
| 1 | 4,102 (586 / Hour) | 410 (x5 = 2,050) |  ? |  ? |  ? - ? |
| 2 | 4,522 (646 / Hour) | 679 (x5 = 3,395) |  ? |  ? |  ? - ? |
| 3 | 4,942 (706 / Hour) | 949 (x5 = 4,745) |  ? |  ? |  ? - ? |
| 4 | 5,362 (766 / Hour) | 1,219 (x5 = 6,095) |  ? |  ? |  ? - ? |
| 5 | 5,782 (826 / Hour) | 1,489 (x5 = 7,445) |  ? | 718 | 56 - 338 |
| 6 | 6,202 (886 / Hour) | 1,758 (x5 = 8,790) |  ? |  ? |  ? - ? |
| 7 | 6,622 (946 / Hour) | 2,028 (x5 = 10,140) |  ? |  ? |  ? - ? |
| 8 | 7,042 (1,006 / Hour) | 2,298 (x5 = 11,490) |  ? |  ? |  ? - ? |
| 9 | 7,462 (1,066 / Hour) | 2,568 (x5 = 12,840) |  ? |  ? |  ? - ? |
| 10 | 7,882 (1,126 / Hour) | Evolve: 30,000 per attempt |  ? | 1,435 | 111 - 669 |
| 11 | 8,302 (1,186 / Hour) | 3,107 (x5 = 15,535) |  ? |  ? |  ? - ? |
| 12 | 8,729 (1,247 / Hour) | 3,377 (x5 = 16,885) |  ? |  ? |  ? - ? |
| 13 | 9,149 (1,307 / Hour) | 3,647 (x5 = 18,235) |  ? |  ? |  ? - ? |
| 14 | 9,569 (1,367 / Hour) | 3,916 (x5 = 19,580) |  ? |  ? |  ? - ? |
| 15 | 9,989 (1,427 / Hour) | 4,186 (x5 = 20,930) |  ? |  ? |  ? - ? |
| 16 | 10,409 (1,487 / Hour) | 4,456 (x5 = 22,280) |  ? |  ? |  ? - ? |
| 17 | 10,829 (1,547 / Hour) | 4,726 (x5 = 23,630) |  ? |  ? |  ? - ? |
| 18 | 11,249 (1,607 / Hour) | 4,995 (x5 = 24,975) |  ? |  ? |  ? - ? |
| 19 | 11,669 (1,667 / Hour) | 5,265 (x5 = 26,325) |  ? |  ? |  ? - ? |
| 20 | 12,089 (1,727 / Hour) | Evolve: 40,000 per attempt |  ? |  ? |  ? - ? |
| 21 | 12,509 (1,787 / Hour) | 5,805 (x5 = 29,025) |  ? |  ? |  ? - ? |
| 22 | 12,929 (1,847 / Hour) | 6,074 (x5 = 30,370) |  ? |  ? |  ? - ? |
| 23 | 13,349 (1,907 / Hour) | 6,344 (x5 = 31,720) |  ? |  ? |  ? - ? |
| 24 | 13,768 (1,967 / Hour) | 6,614 (x5 = 33,070) |  ? |  ? |  ? - ? |
| 25 | 14,189 (2,027 / Hour) | 6,884 (x5 = 34,420) |  ? |  ? |  ? - ? |
| 26 | 14,616 (2,088 / Hour) | 7,153 (x5 = 35,765) |  ? |  ? |  ? - ? |
| 27 | 15,036 (2,148 / Hour) | 7,423 (x5 = 37,115) |  ? |  ? |  ? - ? |
| 28 | 15,456 (2,208 / Hour) | 7,693 (x5 = 38,465) |  ? |  ? |  ? - ? |
| 29 | 15,876 (2,268 / Hour) | 7,963 (x5 = 39,815) |  ? |  ? |  ? - ? |
| 30 | 16,295 (2,328 / Hour) | Evolve: 50,000 per attempt |  ? |  ? |  ? - ? |
| 31 | 16,716 (2,388 / Hour) | 8,502 (x5 = 42,510) |  ? |  ? |  ? - ? |
| 32 | 17,136 (2,448 / Hour) | 8,772 (x5 = 43,860) |  ? |  ? |  ? - ? |
| 33 | 17,556 (2,508 / Hour) | 9,042 (x5 = 45,210) |  ? |  ? |  ? - ? |
| 34 | 17,976 (2,568 / Hour) | 9,312 (x5 = 46,560) |  ? |  ? |  ? - ? |
| 35 | 18,396 (2,628 / Hour) | 9,581 (x5 = 47,905) |  ? |  ? |  ? - ? |
| 36 | 18,816 (2,688 / Hour) | 9,851 (x5 = 49,255) |  ? |  ? |  ? - ? |
| 37 | 19,236 (2,748 / Hour) | 10,121 (x5 = 50,605) |  ? |  ? |  ? - ? |
| 38 | 19,656 (2,808 / Hour) | 10,391 (x5 = 51,955) |  ? |  ? |  ? - ? |
| 39 | 20,076 (2,868 / Hour) | 10,660 (x5 = 53,300) |  ? |  ? |  ? - ? |
| 40 | 20,503 (2,929 / Hour) | MAX |  ? | 5,740 | 442 - 2,656 |
Total Meat to Max: 996,290
Tournament/Battle Arena Profile Pictures
Dinosaur in Action
Pictures Level By Level