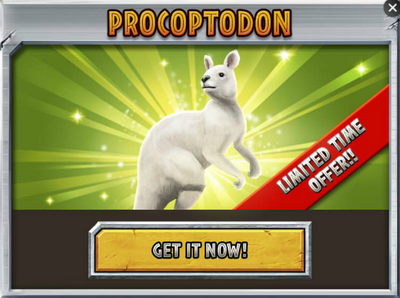 Battle Weakness: Swipe
Battle Class: Gold
Information
Cost and Time to Hatch
Availability
Limited
DNA Research
20,000 x10
Placement Cost
317,400
Incubation Time
22:03:00
XP
3,174 + 4 x 5,292
Dimensions
8 x 8

Initial Message: The name Procoptodon means "Forward Hill Tooth" in Greek.

First Evolution Message: The Giant Short-Faced Kangaroo is another name for the Procoptodon

Second Evolution Message: Procoptodons disappeared because they were hunted to extinction by humans.

Third Evolution Message: The Procoptodon is the only kangaroo that could reach leaves above its head with its long arms.
Level-Based Stats
| Level | Unmodified Earning Rates (8 Hrs) | Feeding Costs (Crops) | Ferocity | Life | Attack |
| --- | --- | --- | --- | --- | --- |
| 1 | 4,352 (544 / Hour) | 435 (x5 = 2,175) |  ? | N/A | N/A - N/A |
| 2 | 4,800 (600 / Hour) | 721 (x5 = 3,605) |  ? | N/A | N/A - N/A |
| 3 | 5,240 (655 / Hour) | 1,007 (x5 = 5,035) |  ? | N/A | N/A - N/A |
| 4 | 5,688 (711 / Hour) | 1,293 (x5 = 6,465) |  ? | N/A | N/A - N/A |
| 5 | 6,442 (805 / Hour) | 1,579 (x5 = 7,895) |  ? | 1,034 | 56 - 338 |
| 6 | 6,913 (864 / Hour) | 1,866 (x5 = 9,330) |  ? | 1,240 | 67 - 403 |
| 7 | 7,375 (922 / Hour) | 2,152 (x5 = 10,760) |  ? | 1,447 | 78 - 468 |
| 8 | 7,845 (981 / Hour) | 2,438 (x5 = 12,190) |  ? | 1,653 | 88 - 532 |
| 9 | 8,316 (1,040 / Hour) | 2,724 (x5 = 13,620) |  ? | 1,860 | 100 - 604 |
| 10 | 8,786 (1,098 / Hour) | Evolve: 30,000 per attempt |  ? | 2,067 | 111 - 669 |
| 11 | 11,098 (1,387 / Hour) | 3,297 (x5 = 16,485) |  ? | 2,273 | 122 - 734 |
| 12 | 11,662 (1,458 / Hour) | 3,583 (x5 = 17,915) |  ? | 2,480 | 133 - 799 |
| 13 | 12,227 (1,528 / Hour) | 3,869 (x5 = 19,345) |  ? | 2,687 | 145 - 871 |
| 14 | 12,791 (1,599 / Hour) | 4,155 (x5 = 20,775) |  ? | 2,893 | 156 - 936 |
| 15 | 13,356 (1,670 / Hour) | 4,441 (x5 = 22,205) |  ? | 3,100 | 166 - 1,000 |
| 16 | 13,910 (1,739 / Hour) | 4,728 (x5 = 23,640) |  ? | 3,306 | 177 - 1,065 |
| 17 | 14,474 (1,809 / Hour) | 5,014 (x5 = 25,070) |  ? | 3,513 | 189 - 1,137 |
| 18 | 15,039 (1,880 / Hour) | 5,300 (x5 = 26,500) |  ? | 3,720 | 200 - 1,202 |
| 19 | 15,603 (1,950 / Hour) | 5,586 (x5 = 27,930) |  ? | 3,926 | 211 - 1,267 |
| 20 | 16,158 (2,020 / Hour) | Evolve: 40,000 per attempt |  ? | 4,133 | 222 - 1,332 |
| 21 | 13,272 (1,659 / Hour) | 6,159 (x5 = 30,795) |  ? | 4,340 | 234 - 1,404 |
| 22 | 13,720 (1,715 / Hour) | 6,445 (x5 = 32,225) |  ? |  ? |  ? - ? |
| 23 | 14,168 (1,771 / Hour) | 6,731 (x5 = 33,655) |  ? |  ? |  ? - ? |
| 24 | 14,608 (1,826 / Hour) | 7,017 (x5 = 35,085) |  ? |  ? |  ? - ? |
| 25 | 15,056 (1,882 / Hour) | 7,303 (x5 = 36,515) |  ? |  ? |  ? - ? |
| 26 | 15,504 (1,938 / Hour) | 7,590 (x5 = 37,950) |  ? |  ? |  ? - ? |
| 27 | 15,952 (1,994 / Hour) | 7,876 (x5 = 39,380) |  ? |  ? |  ? - ? |
| 28 | 16,400 (2,050 / Hour) | 8,162 (x5 = 40,810) |  ? |  ? |  ? - ? |
| 29 | 16,840 (2,105 / Hour) | 8,448 (x5 = 42,240) |  ? |  ? |  ? - ? |
| 30 | 17,288 (2,161 / Hour) | Evolve: 50,000 per attempt |  ? |  ? |  ? - ? |
| 31 | 17,736 (2,217 / Hour) | 9,021 (x5 = 45,105) |  ? |  ? |  ? - ? |
| 32 | 18,184 (2,273 / Hour) | 9,307 (x5 = 46,535) |  ? |  ? |  ? - ? |
| 33 | 18,624 (2,328 / Hour) | 9,593 (x5 = 47,965) |  ? |  ? |  ? - ? |
| 34 | 19,072 (2,384 / Hour) | 9,879 (x5 = 49,395) |  ? |  ? |  ? - ? |
| 35 | 19,520 (2,440 / Hour) | 10,166 (x5 = 50,830) |  ? |  ? |  ? - ? |
| 36 | 19,968 (2,496 / Hour) | 10,452 (x5 = 52,260) |  ? |  ? |  ? - ? |
| 37 | 20,408 (2,551 / Hour) | 10,738 (x5 = 53,690) |  ? |  ? |  ? - ? |
| 38 | 20,856 (2,607 / Hour) | 11,024 (x5 = 55,120) |  ? |  ? |  ? - ? |
| 39 | 21,304 (2,663 / Hour) | 11,310 (x5 = 56,550) |  ? |  ? |  ? - ? |
| 40 | 21,752 (2,719 / Hour) | MAX |  ? | 8,265 | 444 - 2,664 |
Total Crops to Max: 1,057,045