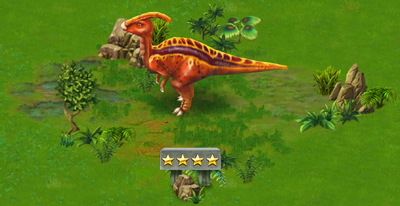 Battle Weakness : Charge
Battle Class : Bronze
Parasaurolophus is a herbivorous dinosaur that lived in North America about 76.5 - 73 million years ago. Parasaurolophus means "near crested lizard", and it is known for its large, elaborate cranial crest.
Information
Cost and Time to Hatch
Availability
Market
DNA Research
500 x10
Placement Cost
28,200
Incubation Time
6:03:00
XP
1,452
Dimensions
6x6

Initial Message: The Parasaurolophus had a peculiar look with a trombone shape crest on the back of its head.

First Evolution Message: The crest on the head of the Parasaurolophus was its nasal cavity, connecting its nostrils to its throat.

Second Evolution Message: The sound of the vocal organ pushed through the crest of the Parasaurolophus would generate a deep honking call.

Third Evolution Message: The name of the Parasaurolophus means "near-crested lizard" in Greek.
Level-Based Stats
| Level | Unmodified Earning Rates (3 Hrs) | Feeding Costs (Crops) | Ferocity | Life | Attack |
| --- | --- | --- | --- | --- | --- |
| 1 | 1,449 (483 / Hour) | 145 (x5 = 725) |  ? | N/A | N/A - N/A |
| 2 | 1,599 (533 / Hour) | 240 (x5 = 1,200) |  ? | N/A | N/A - N/A |
| 3 | 1,746 (582 / Hour) | 335 (x5 = 1,675) |  ? | N/A | N/A - N/A |
| 4 | 1,896 (632 / Hour) | 431 (x5 = 2,155) |  ? | N/A | N/A - N/A |
| 5 | 2,045 (682 / Hour) | 526 (x5 = 2,630) |  ? | 182 | 18 - 108 |
| 6 | 2,193 (731 / Hour) | 622 (x5 = 3,110) | 24 | 218 | 21 - 129 |
| 7 | 2,343 (781 / Hour) | 717 (x5 = 3,585) | 27 | 254 | 25 - 151 |
| 8 | 2,490 (830 / Hour) | 812 (x5 = 4,060) | 31 | 290 | 28 - 172 |
| 9 | 2,640 (880 / Hour) | 908 (x5 = 4,540) |  ? | 327 | 32 - 194 |
| 10 | 2,787 (929 / Hour) | Evolve: 4,000 per attempt |  ? | 363 | 36 - 216 |
| 11 | 2,995 (998 / Hour) | 1,099 (x5 = 5,495) | 43 | 399 | 39 - 237 |
| 12 | 3,148 (1,049 / Hour) | 1,194 (x5 = 5,970) | 47 | 435 | 43 - 259 |
| 13 | 3,234 (1,078 / Hour) | 1,289 (x5 = 6,445) | 50 | 472 | 46 - 280 |
| 14 | 3,384 (1,128 / Hour) | 1,384 (x5 = 6,920) | 54 | 508 | 50 - 302 |
| 15 | 3,531 (1,177 / Hour) | 1,480 (x5 = 7,400) | 58 | 544 | 54 - 324 |
| 16 | 3,680 (1,227 / Hour) | 1,575 (x5 = 7,875) | 62 | 580 | 57 - 345 |
| 17 | 3,828 (1,276 / Hour) | 1,671 (x5 = 8,355) | 66 | 617 | 61 - 367 |
| 18 | 3,978 (1,326 / Hour) | 1,766 (x5 = 8,830) | 70 | 653 | 64 - 388 |
| 19 | 4,128 (1,376 / Hour) | 1,862 (x5 = 9,310) | 73 | 689 | 68 - 410 |
| 20 | 4,278 (1,426 / Hour) | Evolve: 7,450 per attempt | 77 | 725 | 72 - 432 |
| 21 | 4,425 (1,475 / Hour) | 2,053 (x5 = 10,265) | 81 | 762 | 75 - 453 |
| 22 | 4,572 (1,524 / Hour) | 2,148 (x5 = 10,740) | 85 | 798 | 79 - 475 |
| 23 | 4,722 (1,574 / Hour) | 2,243 (x5 = 11,215) | 89 | 834 | 82 - 496 |
| 24 | 4,872 (1,624 / Hour) | 2,339 (x5 = 11,695) | 93 | 870 | 86 - 518 |
| 25 | 5,019 (1,673 / Hour) | 2,434 (x5 = 12,170) | 97 | 907 | 90 - 540 |
| 26 | 5,169 (1,723 / Hour) | 2,530 (x5 = 12,650) | 100 | 943 | 93 - 561 |
| 27 | 5,316 (1,772 / Hour) | 2,625 (x5 = 13,125) | 104 | 979 | 97 - 583 |
| 28 | 5,465 (1,822 / Hour) | 2,720 (x5 = 13,600) | 108 | 1,015 | 100 - 604 |
| 29 | 5,613 (1,871 / Hour) | 2,816 (x5 = 14,080) | 112 | 1,052 | 104 - 626 |
| 30 | 5,763 (1,921 / Hour) | Evolve: 12,500 per attempt | 116 | 1,588 | 108 - 648 |
| 31 | 5,913 (1,971 / Hour) | 3,007 (x5 = 15,035) | 120 | 1,124 | 111 - 669 |
| 32 | 6,060 (2,020 / Hour) | 3,102 (x5 = 15,510) | 123 | 1,160 | 115 - 691 |
| 33 | 6,210 (2,070 / Hour) | 3,197 (x5 = 15,985) | 127 | 1,197 | 118 - 712 |
| 34 | 6,357 (2,119 / Hour) | 3,293 (x5 = 16,465) | 131 | 1,233 | 122 - 734 |
| 35 | 6,507 (2,169 / Hour) | 3,388 (x5 = 16,940) | 135 | 1,269 | 126 - 756 |
| 36 | 6,654 (2,218 / Hour) | 3,484 (x5 = 17,420) | 139 | 1,305 | 129 - 777 |
| 37 | 6,804 (2,268 / Hour) | 3,579 (x5 = 17,895) | 143 | 1,342 | 132 - 792 |
| 38 | 6,954 (2,318 / Hour) | 3,674 (x5 = 18,370) | 147 | 1,378 | 135 - 813 |
| 39 | 7,101 (2,367 / Hour) | 3,770 (x5 = 18,850) | 150 | 1,414 | 139 - 835 |
| 40 | 7,250 (2,417 / Hour) | MAX | 154 | 1,450 | 142 - 856 |
Total Crops to Max: 352,290
Tournament/Battle Arena Profile Pictures
Dinosaur in Action
Pictures Level By Level