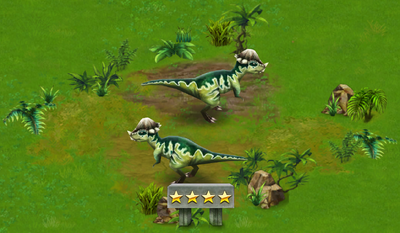 Battle Weakness: Charge
Battle Class: Bronze
Pachycephalosaurus is a dinosaur lived during the Late Cretaceous Period in North America. Pachycephalosaurus means "thick headed lizard". It was an herbivorous or omnivorous creature which is primarily known from a single skull and a few extremely thick skull roofs, though more complete fossils have been found in recent years. The Pachycephalosaurus might have used its skull for fighting for mates, or it could have also been used to defend itself from predators.
Information
Cost and Time to Hatch
Availability
Market
DNA Research
350 x4
Placement Cost
6,700
Incubation Time
02:27:00
XP
67
Dimensions
6x6

Initial Message: The thickness of the Pachycephalosaurus' skull could reach 9 inches, that's wider than a sheet of paper!

First Evolution Message: No full skeletons of the Pachycephalosaurus were found, it is mainly known by its skull.

Second Evolution Message: Head-butting contests may have been one of the usages of the dome-shaped head of the Pachycephalosaurus.

Third Evolution Message: Pachycephalosaurus means "Thick-headed lizard" in Greek.
Level-Based Stats
| Level | Unmodified Earning Rates (50 Min) | Feeding Costs (Crops) | Ferocity | Life | Attack |
| --- | --- | --- | --- | --- | --- |
| 1 | 620 (747 / Hour) | 62 (x5 = 310) |  ? | N/A | N/A - N/A |
| 2 | 683 (823 / Hour) | 102 (x5 = 510) |  ? | N/A | N/A - N/A |
| 3 | 747 (900 / Hour) | 143 (x5 = 715) |  ? | N/A | N/A - N/A |
| 4 | 810 (976 / Hour) | 184 (x5 = 920) |  ? | N/A | N/A - N/A |
| 5 | 874 (1,053 / Hour) | 225 (x5 = 1,125) | 9 | 78 | 8 - 50 |
| 6 | 942 (1,135 / Hour) | 265 (x5 = 1,325) | 10 | 93 | 9 - 57 |
| 7 | 1,001 (1,206 / Hour) | 306 (x5 = 1,530) | 12 | 109 | 10 - 64 |
| 8 | 1,065 (1,283 / Hour) | 347 (x5 = 1,735) | 14 | 124 | 13 - 79 |
| 9 | 1,128 (1,359 / Hour) | 388 (x5 = 1,940) | 15 | 140 | 14 - 86 |
| 10 | 1,192 (1,436 / Hour) | Evolve: 2,050 per attempt | 17 | 155 | 15 - 93 |
| 11 | 1,255 (1,512 / Hour) | 469 (x5 = 2,345) | 19 |  ? |  ? - ? |
| 12 | 1,319 (1,589 / Hour) | 510 (x5 = 2,550) | 20 | 186 | 19 - 115 |
| 13 | 1,383 (1,666 / Hour) | 551 (x5 = 2,755) | 22 | 202 | 20 - 122 |
| 14 | 1,466 (1,766 / Hour) | 592 (x5 = 2,960) | 23 | 517 | 21 - 129 |
| 15 | 1,510 (1,819 / Hour) | 633 (x5 = 3,165) | 25 | 233 | 24 - 144 |
| 16 | 1,574 (1,896 / Hour) | 673 (x5 = 3,365) | 27 | 248 | 25 - 151 |
| 17 | 1,637 (1,972 / Hour) | 714 (x5 = 3,570) | 28 | 264 | 26 - 158 |
| 18 | 1,700 (2,048 / Hour) | 755 (x5 = 3,775) | 30 | 279 | 27 - 165 |
| 19 | 1,764 (2,125 / Hour) | 796 (x5 = 3,980) | 32 | 295 | 30 - 180 |
| 20 | 1,828 (2,202 / Hour) | Evolve: 4,850 per attempt | 33 | 310 | 31 - 187 |
| 21 | 1,891 (2,278 / Hour) | 877 (x5 = 4,385) | 35 | 326 | 32 - 194 |
| 22 | 1,954 (2,354 / Hour) | 918 (x5 = 4,590) | 37 | 341 | 33 - 201 |
| 23 | 2,019 (2,433 / Hour) | 959 (x5 = 4,795) | 38 | 357 | 36 - 216 |
| 24 | 2,082 (2,508 / Hour) | 1,000 (x5 = 5,000) | 40 | 372 | 37 - 223 |
| 25 | 2,145 (2,584 / Hour) | 1,041 (x5 = 5,205) | 42 | 388 | 38 - 230 |
| 26 | 2,210 (2,663 / Hour) | 1,081 (x5 = 5,405) | 43 | 403 | 40 - 244 |
| 27 | 2,273 (2,739 / Hour) | 1,122 (x5 = 5,610) | 45 | 419 | 42 - 252 |
| 28 | 2,336 (2,814 / Hour) | 1,163 (x5 = 5,815) | 46 | 434 | 43 - 259 |
| 29 | 2,400 (2,892 / Hour) | 1,204 (x5 = 6,020) | 48 | 450 | 44 - 266 |
| 30 | 2,464 (2,969 / Hour) | Evolve: 8,500 per attempt | 50 | 465 | 46 - 280 |
| 31 | 2,527 (3,045 / Hour) | 1,285 (x5 = 6,425) | 51 | 481 | 48 - 288 |
| 32 | 2,591 (3,122 / Hour) | 1,326 (x5 = 6,630) | 53 | 496 | 49 - 295 |
| 33 | 2,655 (3,199 / Hour) | 1,367 (x5 = 6,835) | 55 | 512 | 50 - 302 |
| 34 | 2,718 (3,275 / Hour) | 1,408 (x5 = 7,040) | 56 | 527 | 52 - 316 |
| 35 | 2,781 (3,351 / Hour) | 1,448 (x5 = 7,240) | 58 | 543 | 54 - 324 |
| 36 | 2,845 (3,428 / Hour) | 1,489 (x5 = 7,445) | 60 | 558 | 55 - 331 |
| 37 | 2,909 (3,505 / Hour) | 1,530 (x5 = 7,650) | 61 | 574 | 57 - 345 |
| 38 | 2,972 (3,581 / Hour) | 1,571 (x5 = 7,855) | 63 | 589 | 58 - 352 |
| 39 | 3,036 (3,658 / Hour) | 1,612 (x5 = 8,060) | 65 | 605 | 60 - 360 |
| 40 | 3,100 (3,735 / Hour) | MAX | 66 | 620 | 61 - 367 |
Total Crops to Max: 150,580
Tournament/Battle Arena Profile Pictures
Dinosaur in Action
Pictures Level By Level