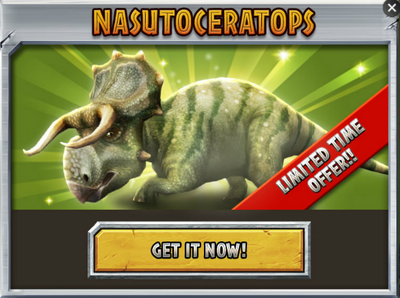 Battle Weakness: Charge
Battle Class: Gold
Nasutoceratops is an extinct genus of ceratopsian dinosaur. It is a basal centrosaurine which lived during the late Cretaceous period (late Campanian, about 76.0-75.5 Ma) in what is now southern Utah, United States. Nasutoceratops was a large, ground-dwelling, quadrupedal herbivore with a short snout and unique rounded horns above its eyes that have been likened to those of modern cattle. Extending almost to the tip of its snout, these horns are the longest of all the members of the centrosaurine subfamily. The presence of pneumatic elements in the nasal bones of Nasutoceratops are a unique trait and are unknown in any other ceratopsid. Nasutoceratops and Diabloceratops are the only two centrosaurine dinosaurs from the American southwest.
The holotype skull is approximately 1.5 metres (4.9 ft) in length. Its body length is estimated at 4.5 metres (14.8 ft), its weight at 1.5 tonnes (1.7 short tons). Nasutoceratops has several unique derived traits or autapomorphies. The part of the snout around the nostril is strongly developed, representing about three quarters of the skull length in front of the eye sockets. The rear of each nasal bone is hollowed out by a large internal cavity. The contact surface between the maxilla and the praemaxilla is exceptionally large. The maxilla also has a large internal flange contacting the praemaxilla via two horizontal facets. The brow horns at their bases are pointed forwards and outwards, then curve inwards, and ultimately twist their points upwards.
Information
Cost and Time to Hatch
Availability
Limited
DNA Research
N/A
Placement Cost
418
Incubation Time
12:00
XP
Dimensions
5x5

Initial Message: Nasutoceratops means "Large-Nosed Horned Face" in Greek.

First Evolution Message: Nasutoceratops has 3 horns; two rounded horns similar to modern cattle and a blade-like third between the eyes on the top of the nose.

Second Evolution Message: Nasutoceratops likely lived on the shores of an inland sea that split North America into two land masses.

Third Evolution Message: Unlike the Triceratops, the Nasutoceratops had a simple scalloped frill at the back of its head without well-developed hooks or spikes.
Level-Based Stats
| Level | Unmodified Earning Rates (20 Hrs) | Feeding Costs (Crops) | Ferocity | Life | Attack |
| --- | --- | --- | --- | --- | --- |
| 1 | 4,380 (219 / Hour) | 437 (x5 = 2,185) |  ? | N/A | N/A - N/A |
| 2 | 4,820 (241 / Hour) | 725 (x5 = 3,625) |  ? | N/A | N/A - N/A |
| 3 | 5,280 (264 / Hour) | 1,013 (x5 = 5,065) |  ? | N/A | N/A - N/A |
| 4 | 5,720 (286 / Hour) | 1,301 (x5 = 6,505) |  ? | N/A | N/A - N/A |
| 5 | 6,160 (308 / Hour) | 1,588 (x5 = 7,940) |  ? | 1,040 | 56 - 338 |
| 6 | 6,620 (331 / Hour) | 1,876 (x5 = 9,380) |  ? | 1,247 | 67 - 403 |
| 7 | 7,060 (353 / Hour) | 2,164 (x5 = 10,820) |  ? | 1,455 | 79 - 475 |
| 8 | 7,520 (376 / Hour) | 2,452 (x5 = 12,260) |  ? | 1,663 | 90 - 540 |
| 9 | 7,960 (398 / Hour) | 2,740 (x5 = 13,700) |  ? | 1,871 | 100 - 604 |
| 10 | 8,420 (421 / Hour) | Evolve: 12,500 per attempt |  ? | 2,079 | 111 - 669 |
| 11 | 8,860 (443 / Hour) | 3,316 (x5 = 16,580) |  ? | 2,286 | 123 - 741 |
| 12 | 9,320 (466 / Hour) | 3,603 (x5 = 18,015) |  ? | 2,494 | 134 - 806 |
| 13 | 9,760 (488 / Hour) | 3,891 (x5 = 19,455) |  ? | 2,702 | 145 - 871 |
| 14 | 10,200 (510 / Hour) | 4,179 (x5 = 20,895) |  ? | 2,910 | 157 - 943 |
| 15 | 10,600 (530 / Hour) | 4,467 (x5 = 22,335) |  ? | 3,118 | 168 - 1,008 |
| 16 | 0 (0 / Hour) | 4,755 (x5 = 23,775) |  ? | 3,325 | 178 - 1,072 |
| 17 | 11,560 (578 / Hour) | 5,043 (x5 = 25,215) |  ? | 3,533 | 190 - 1,144 |
| 18 | 12,000 (600 / Hour) | 5,330 (x5 = 26,650) |  ? | 3,741 | 201 - 1,209 |
| 19 | 12,460 (623 / Hour) | 5,618 (x5 = 28,090) |  ? | 3,949 | 212 - 1,274 |
| 20 | 12,900 (645 / Hour) | Evolve: 15,750 per attempt |  ? | 4,157 | 223 - 1,339 |
| 21 | 13,340 (667 / Hour) | 6,194 (x5 = 30,970) |  ? | 4,365 | 235 - 1,411 |
| 22 | 13,800 (690 / Hour) | 6,482 (x5 = 32,410) |  ? | 4,572 | 246 - 1,476 |
| 23 | 14,240 (712 / Hour) | 6,770 (x5 = 33,850) |  ? | 4,780 | 256 - 1,540 |
| 24 | 14,700 (735 / Hour) | 7,058 (x5 = 35,290) |  ? | 4,988 | 268 - 1,612 |
| 25 | 5,196 (260 / Hour) | 7,345 (x5 = 36,725) |  ? | 5,196 | 279 - 1,677 |
| 26 | 15,600 (780 / Hour) | 7,633 (x5 = 38,165) |  ? | 5,404 | 290 - 1,742 |
| 27 | 16,040 (802 / Hour) | 7,921 (x5 = 39,605) |  ? | 5,611 | 302 - 1,814 |
| 28 | 16,500 (825 / Hour) | 8,209 (x5 = 41,045) |  ? | 5,819 | 313 - 1,879 |
| 29 | 16,940 (847 / Hour) | 8,497 (x5 = 42,485) |  ? | 6,027 | 324 - 1,944 |
| 30 | 17,380 (869 / Hour) | Evolve: 25,300 per attempt |  ? | 6,235 | 334 - 2,008 |
| 31 | 17,840 (892 / Hour) | 9,073 (x5 = 45,365) |  ? | 6,443 | 346 - 2,080 |
| 32 | 18,280 (914 / Hour) | 9,360 (x5 = 46,800) |  ? | 6,650 | 357 - 2,145 |
| 33 | 18,740 (937 / Hour) | 9,648 (x5 = 48,240) |  ? | 6,858 | 368 - 2,210 |
| 34 | 19,180 (959 / Hour) | 9,936 (x5 = 49,680) |  ? | 7,066 | 380 - 2,282 |
| 35 | 19,640 (982 / Hour) | 10,224 (x5 = 51,120) |  ? | 7,274 | 391 - 2,347 |
| 36 | 20,080 (1,004 / Hour) | 10,512 (x5 = 52,560) |  ? | 7,482 | 402 - 2,412 |
| 37 | 20,520 (1,026 / Hour) | 10,800 (x5 = 54,000) |  ? | 7,690 | 412 - 2,476 |
| 38 | 20,980 (1,049 / Hour) | 11,088 (x5 = 55,440) |  ? | 7,897 | 424 - 2,548 |
| 39 | 21,420 (1,071 / Hour) | 11,375 (x5 = 56,875) |  ? | 8,105 | 435 - 2,613 |
| 40 | 21,880 (1,094 / Hour) | MAX | 1,160 | 8,313 | 446 - 2,678 |
Total Crops to Max: 1,063,115
Nasutoceratops Level 40
Tournament-Battle Arena Profile Picture
Nasutoceratops in Battle
Nasutoceratops Level 40 Pictures