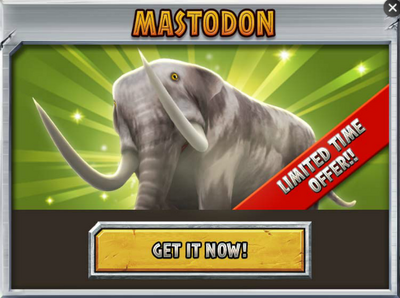 Battle Weakness: Bite
Battle Class: Gold
Mastodons (Greek: μαστός "breast" and ὀδούς, "tooth") are any species of extinct mammutid proboscideans in the genus Mammut, distantly related to elephants, that inhabited North and Central America during the late Miocene or late Pliocene up to their extinction at the end of the Pleistocene 10,000 to 11,000 years ago. Mastodons lived in herds and were predominantly forest dwelling animals that fed on a mixed diet obtained by browsing and grazing with a seasonal preference for browsing, similar to living elephants.
M. americanum, the American mastodon, is the youngest and best-known species of the genus. They disappeared from North America as part of a mass extinction of most of the Pleistocene megafauna, widely believed to have been related to overexploitation by Clovis hunters, and possibly also to climate change.
Based on the characteristics of mastodon bone sites, it can be inferred that, as in modern proboscideans, the mastodon social group consisted of adult females and young, living in bonded groups called mixed herds. The males abandoned the mixed herds once reaching sexual maturity and lived either alone or in male bond groupings.
Information
Cost and Time to Hatch
Availability
Limited
DNA Research
20,000 x10
Placement Cost
328,350
Incubation Time
22:03:00
XP
3,284 + 4 x 5,292
Dimensions
8x8

Initial Message: The Mastodon was part of the Mammut genus which means "Earth Burrower" in Greek.

First Evolution Message: The name Mastodon means "Nipple Teeth" in Greek.

Second Evolution Message: Only the North American version of the Mastodon had hair over its body.

Third Evolution Message: The population of Mastodon was decimated by human settlers around 10,000 B.C.
Level-Based Stats
| Level | Unmodified Earning Rates (12 hours) | Feeding Costs (Crops) | Ferocity | Life | Attack |
| --- | --- | --- | --- | --- | --- |
| 1 | 4,500 (375 / Hour) | 450 (x5 = 2,250) |  ? | N/A | N/A - N/A |
| 2 | 4,956 (413 / Hour) | 746 (x5 = 3,730) |  ? | N/A | N/A - N/A |
| 3 | 5,424 (452 / Hour) | 1,042 (x5 = 5,210) |  ? | N/A | N/A - N/A |
| 4 | 5,880 (490 / Hour) | 1,338 (x5 = 6,690) |  ? | N/A | N/A - N/A |
| 5 | 6,348 (529 / Hour) | 1,634 (x5 = 8,170) |  ? | 1,069 | 57 - 345 |
| 6 | 6,804 (567 / Hour) | 1,930 (x5 = 9,650) |  ? | 1,283 | 69 - 417 |
| 7 | 7,272 (606 / Hour) | 2,226 (x5 = 11,130) |  ? | 1,497 | 80 - 482 |
| 8 | 7,728 (644 / Hour) | 2,522 (x5 = 12,610) |  ? | 1,710 | 92 - 554 |
| 9 | 8,196 (683 / Hour) | 2,818 (x5 = 14,090) |  ? | 1,924 | 104 - 626 |
| 10 | 8,652 (721 / Hour) | Evolve: 30,000 per attempt |  ? | 2,138 | 115 - 691 |
| 11 | 9,120 (760 / Hour) | 3,410 (x5 = 17,050) |  ? | 2,352 | 127 - 763 |
| 12 | 9,576 (798 / Hour) | 3,706 (x5 = 18,530) |  ? | 2,565 | 138 - 828 |
| 13 | 10,044 (837 / Hour) | 4,002 (x5 = 20,010) |  ? | 2,779 | 150 - 900 |
| 14 | 10,500 (875 / Hour) | 4,299 (x5 = 21,495) |  ? | 2,993 | 160 - 964 |
| 15 | 10,956 (913 / Hour) | 4,505 (x5 = 22,525) |  ? | 3,207 | 172 - 1,036 |
| 16 | 11,424 (952 / Hour) | 4,891 (x5 = 24,455) |  ? | 3,420 | 183 - 1,101 |
| 17 | 11,880 (990 / Hour) | 5,187 (x5 = 25,935) |  ? | 3,634 | 195 - 1,173 |
| 18 | 12,348 (1,029 / Hour) | 5,483 (x5 = 27,415) |  ? | 3,848 | 207 - 1,245 |
| 19 | 12,804 (1,067 / Hour) | 5,779 (x5 = 28,895) |  ? | 4,062 | 218 - 1,310 |
| 20 | 13,272 (1,106 / Hour) | Evolve: 40,000 per attempt |  ? | 4,275 | 230 - 1,382 |
| 21 | 13,728 (1,144 / Hour) | 6,371 (x5 = 31,855) |  ? | 4,489 | 241 - 1,447 |
| 22 | 14,196 (1,183 / Hour) | 6,667 (x5 = 33,335) |  ? | 4,703 | 253 - 1,519 |
| 23 | 14,652 (1,221 / Hour) | 6,963 (x5 = 34,815) |  ? | 4,917 | 264 - 1,584 |
| 24 | 15,120 (1,260 / Hour) | 7,259 (x5 = 36,295) |  ? | 5,130 | 276 - 1,656 |
| 25 | 15,576 (1,298 / Hour) | 7,555 (x5 = 37,775) |  ? | 5,344 | 288 - 1,728 |
| 26 | 16,044 (1,337 / Hour) | 7,851 (x5 = 39,255) |  ? | 5,558 | 298 - 1,792 |
| 27 | 16,500 (1,375 / Hour) | 8,148 (x5 = 40,740) |  ? | 5,772 | 310 - 1,864 |
| 28 | 16,956 (1,413 / Hour) | 8,444 (x5 = 42,220) |  ? | 5,985 | 321 - 1,929 |
| 29 | 17,424 (1,452 / Hour) | 8,740 (x5 = 43,700) |  ? | 6,199 | 333 - 2,001 |
| 30 | 17,880 (1,490 / Hour) | Evolve: 50,000 per attempt |  ? | 6,413 | 344 - 2,066 |
| 31 | 18,348 (1,529 / Hour) | 9,332 (x5 = 46,660) |  ? | 6,627 | 356 - 2,138 |
| 32 | 18,804 (1,567 / Hour) | 9,628 (x5 = 48,140) |  ? | 6,840 | 367 - 2,203 |
| 33 | 19,272 (1,606 / Hour) | 9,924 (x5 = 49,620) |  ? | 7,054 | 379 - 2,275 |
| 34 | 19,728 (1,644 / Hour) | 10,220 (x5 = 51,100) |  ? | 7,268 | 391 - 2,347 |
| 35 | 20,196 (1,683 / Hour) | 10,516 (x5 = 52,580) |  ? | 7,482 | 402 - 2,412 |
| 36 | 20,652 (1,721 / Hour) | 10,812 (x5 = 54,060) |  ? | 7,695 | 414 - 2,484 |
| 37 | 21,120 (1,760 / Hour) | 11,108 (x5 = 55,540) |  ? | 7,909 | 424 - 2,548 |
| 38 | 21,576 (1,798 / Hour) | 11,404 (x5 = 57,020) |  ? |  ? |  ? - ? |
| 39 | 22,043 (1,837 / Hour) | 11,700 (x5 = 58,500) |  ? |  ? |  ? - ? |
| 40 | 22,500 (1,875 / Hour) | MAX | 1,193 | 8,550 | 459 - 2,757 |
Total Crops to Max: 1,093,050
Mastodon Level 40
Tournament-Battle Arena Profile Picture
Mastodon in Battle
Mastodon Level 40 Pictures