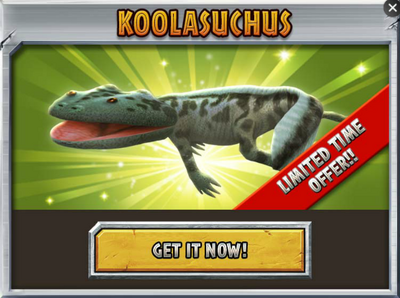 Battle Weakness: Swipe
Battle Class: Gold
Diet: Crustaceavore
Koolasuchus is an extinct genus of brachyopoid temnospondyl in the family Chigutisauridae. Fossils have been found from Victoria, Australia and date back 120 Ma to the Aptian stage of the Early Cretaceous. Koolasuchus is the youngest known temnospondyl. Koolasuchus is known from several fragments of the skull and other bones such as vertebrae, ribs, and pectoral elements.
The type species Koolasuchus cleelandi was named in 1997. Koolasuchus was an aquatic temnospondyl estimated to have been around 4 to 5 metres (13 to 16 ft) in length. Its mass has been estimated to be up to 500 kilograms (1,100 lb). Although represented by incomplete material, the skull was likely 65 centimetres (26 in) long. Like other chigutisaurids, it had a wide, rounded head and tabular horns projecting from the backside of the skull.
Information
Cost and Time to Hatch
Availability
Limited
DNA Research
15,000 x10
Placement Cost
92,350
Incubation Time
06:03:00
XP
Dimensions
6x6

Initial Message: Koolasuchus' head was wide and rounded with tabular horns projecting from the backside of the skull.

First Evolution Message: Living in southern Australia,Koolasuchus lived and hunted in fast-moving streams like a crocodile which couldn't handle the colder climates of the south.

Second Evolution Message: Koolasuchus massive head made up over a sixth of its total body weight.

Third Evolution Message: Koolasuchus was likely a hibernator,sleeping through the winter like modern-day salamanders.
Level-Based Stats
| Level | Unmodified Earning Rates (8 Hrs) | Feeding Costs (Crustaceans) | Ferocity | Life | Attack |
| --- | --- | --- | --- | --- | --- |
| 1 | 1 (0 / Hour) | 1 (x5 = 5) |  ? |  ? |  ? - ? |
| 2 | 1 (0 / Hour) | 1 (x5 = 5) |  ? |  ? |  ? - ? |
| 3 | 5,728 (716 / Hour) | 1,100 (x5 = 5,500) |  ? |  ? |  ? - ? |
| 4 | 1 (0 / Hour) | 1 (x5 = 5) |  ? |  ? |  ? - ? |
| 5 | 1 (0 / Hour) | 1 (x5 = 5) | 158 | 1 | 1 - 1 |
| 6 | 1 (0 / Hour) | 1 (x5 = 5) | 189 | 1 | 1 - 1 |
| 7 | 1 (0 / Hour) | 2,350 (x5 = 11,750) | 221 | 1,580 | 85 - 511 |
| 8 | 8,160 (1,020 / Hour) | 2,662 (x5 = 13,310) | 252 | 1,805 | 97 - 583 |
| 9 | 8,648 (1,081 / Hour) | 2,975 (x5 = 14,875) | 284 | 2,031 | 109 - 655 |
| 10 | 9,136 (1,142 / Hour) | Evolve: 25,000 per attempt | 315 | 2,257 | 121 - 727 |
| 11 | 10,875 (1,359 / Hour) | 3,600 (x5 = 18,000) |  ? | 2,482 | 134 - 806 |
| 12 | 11,426 (1,428 / Hour) | 3,912 (x5 = 19,560) |  ? | 2,708 | 146 - 878 |
| 13 | 11,978 (1,497 / Hour) | 4,225 (x5 = 21,125) |  ? | 2,934 | 158 - 950 |
| 14 | 12,520 (1,565 / Hour) | 4,537 (x5 = 22,685) |  ? | 3,159 | 170 - 1,022 |
| 15 | 13,071 (1,634 / Hour) | 4,850 (x5 = 24,250) |  ? | 3,385 | 182 - 1,094 |
| 16 | 1 (0 / Hour) | 1 (x5 = 5) |  ? | 1 | 1 - 1 |
| 17 | 1 (0 / Hour) | 1 (x5 = 5) |  ? | 1 | 1 - 1 |
| 18 | 1 (0 / Hour) | 1 (x5 = 5) |  ? | 1 | 1 - 1 |
| 19 | 1 (0 / Hour) | 1 (x5 = 5) |  ? | 1 | 1 - 1 |
| 20 | 1 (0 / Hour) | Evolve: 1 per attempt | 630 | 1 | 1 - 1 |
| 21 | 14,495 (1,812 / Hour) | 6,725 (x5 = 33,625) | 661 | 4,739 | 254 - 1,526 |
| 22 | 14,983 (1,873 / Hour) | 7,038 (x5 = 35,190) |  ? | 4,964 | 267 - 1,605 |
| 23 | 15,495 (1,937 / Hour) | 7,350 (x5 = 36,750) |  ? | 5,190 | 279 - 1,677 |
| 24 | 15,952 (1,994 / Hour) | 7,663 (x5 = 38,315) |  ? | 5,415 | 291 - 1,749 |
| 25 | 16,440 (2,055 / Hour) | 7,975 (x5 = 39,875) | 787 | 5,641 | 303 - 1,821 |
| 26 | 16,928 (2,116 / Hour) | 8,288 (x5 = 41,440) | 819 | 5,867 | 315 - 1,893 |
| 27 | 17,416 (2,177 / Hour) | 8,600 (x5 = 43,000) | 850 | 6,092 | 327 - 1,965 |
| 28 | 17,904 (2,238 / Hour) | 8,913 (x5 = 44,565) | 882 | 6,318 | 339 - 2,037 |
| 29 | 18,392 (2,299 / Hour) | 9,225 (x5 = 46,125) | 913 | 6,544 | 351 - 2,109 |
| 30 | 18,880 (2,360 / Hour) | Evolve: 50,000 per attempt | 945 | 6,769 | 363 - 2,181 |
| 31 | 19,368 (2,421 / Hour) | 9,850 (x5 = 49,250) | 976 | 6,995 | 375 - 2,253 |
| 32 | 19,856 (2,482 / Hour) | 10,163 (x5 = 50,815) |  ? | 7,220 | 387 - 2,325 |
| 33 | 20,336 (2,542 / Hour) | 10,475 (x5 = 52,375) | 1,839 | 7,446 | 400 - 2,404 |
| 34 | 20,824 (2,603 / Hour) | 10,788 (x5 = 53,940) | 1,870 | 7,672 | 412 - 2,476 |
| 35 | 21,312 (2,664 / Hour) | 11,100 (x5 = 55,500) | 1,102 | 7,897 | 424 - 2,548 |
| 36 | 21,800 (2,725 / Hour) | 11,413 (x5 = 57,065) | 1,133 | 8,123 | 436 - 2,620 |
| 37 | 22,288 (2,786 / Hour) | 11,725 (x5 = 58,625) | 1,165 | 8,349 | 448 - 2,692 |
| 38 | 22,776 (2,847 / Hour) | 12,038 (x5 = 60,190) | 1,196 | 8,574 | 460 - 2,764 |
| 39 | 23,264 (2,908 / Hour) | 12,350 (x5 = 61,750) | 1,228 | 8,800 | 472 - 2,836 |
| 40 | 23,752 (2,969 / Hour) | MAX | 1,259 | 9,025 | 484 - 2,908 |
Total Crustaceans to Max: 1,009,495
Koolasuchus Level 40
Tournament-Battle Arena Profile Picture
Koolasuchus in Battle
Koolasuchus Level 40 Pictures