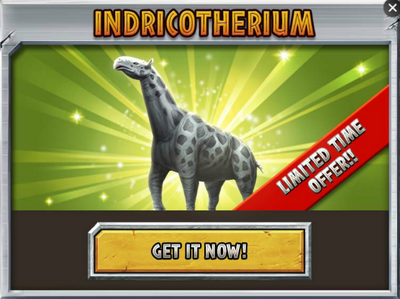 Battle Weakness: Bite
Battle Class: Gold
Indricotherium is the best animal in the Glacier Park in Jurassic Park Builder.
Information
Cost and Time to Hatch
Availability
Limited
DNA Research
20,000 x10
Placement Cost
569,450
Incubation Time
22:03:00
XP
5,695 +4x5,292
Dimensions
10x10

Initial Message: The name Indricotherium means "Indric Beast" in Greek

First Evolution Message: The Indricotherium is also known as Paraceratherium.

Second Evolution Message: The prize for the largest known mammal goes to the Indricotherium, which was almost the size of the dinosaur.

Third Evolution Message: Scientists think that the Indricotherium's upper lip was prehensible and could grab tall leaves of trees.
Level-Based Stats
| Level | Unmodified Earning Rates (12 Hrs) | Feeding Costs (Crops) | Ferocity | Life | Attack |
| --- | --- | --- | --- | --- | --- |
| 1 | 4,992 (416 / Hour) | 499 (x5 = 2,495) |  ? |  ? |  ? - ? |
| 2 | 5,508 (459 / Hour) | 828 (x5 = 4,140) |  ? |  ? |  ? - ? |
| 3 | 6,024 (502 / Hour) | 1,156 (x5 = 5,780) |  ? |  ? |  ? - ? |
| 4 | 6,528 (544 / Hour) | 1,485 (x5 = 7,425) |  ? |  ? |  ? - ? |
| 5 | 7,044 (587 / Hour) | 1,814 (x5 = 9,070) |  ? | 1,187 | 64 - 388 |
| 6 | 7,560 (630 / Hour) | 2,142 (x5 = 10,710) |  ? | 1,424 | 76 - 460 |
| 7 | 8,064 (672 / Hour) | 2,471 (x5 = 12,355) |  ? | 1,661 | 90 - 540 |
| 8 | 8,580 (715 / Hour) | 2,800 (x5 = 14,000) |  ? | 1,899 | 102 - 612 |
| 9 | 9,096 (758 / Hour) | 3,128 (x5 = 15,640) |  ? | 2,136 | 115 - 691 |
| 10 | 9,600 (800 / Hour) | Evolve: 30,000 per attempt |  ? | 2,373 | 128 - 770 |
| 11 | 10,116 (843 / Hour) | 3,785 (x5 = 18,925) |  ? | 2,610 | 140 - 842 |
| 12 | 10,632 (886 / Hour) | 4,114 (x5 = 20,570) |  ? | 2,848 | 153 - 921 |
| 13 | 11,148 (929 / Hour) | 4,443 (x5 = 22,215) |  ? | 3,085 | 165 - 993 |
| 14 | 11,652 (971 / Hour) | 4,771 (x5 = 23,855) |  ? | 3,322 | 178 - 1,072 |
| 15 | 12,168 (1,014 / Hour) | 5,100 (x5 = 25,500) |  ? | 3,559 | 192 - 1,152 |
| 16 | 12,684 (1,057 / Hour) | 5,429 (x5 = 27,145) |  ? | 3,797 | 204 - 1,224 |
| 17 | 13,187 (1,099 / Hour) | 5,757 (x5 = 28,785) |  ? | 4,034 | 217 - 1,303 |
| 18 | 13,703 (1,142 / Hour) | 6,086 (x5 = 30,430) |  ? | 4,271 | 230 - 1,382 |
| 19 | 14,220 (1,185 / Hour) | 6,415 (x5 = 32,075) |  ? | 4,508 | 242 - 1,454 |
| 20 | 14,724 (1,227 / Hour) | Evolve: 40,000 per attempt |  ? | 4,746 | 255 - 1,533 |
| 21 | 15,248 (1,271 / Hour) | 7,072 (x5 = 35,360) |  ? | 4,983 | 267 - 1,605 |
| 22 | 15,756 (1,313 / Hour) | 7,401 (x5 = 37,005) |  ? | 5,220 | 280 - 1,684 |
| 23 | 16,260 (1,355 / Hour) | 7,729 (x5 = 38,645) |  ? | 5,458 | 294 - 1,764 |
| 24 | 16,776 (1,398 / Hour) | 8,058 (x5 = 40,290) |  ? | 5,695 | 306 - 1,836 |
| 25 | 17,292 (1,441 / Hour) | 8,386 (x5 = 41,930) |  ? | 5,932 | 319 - 1,915 |
| 26 | 17,808 (1,484 / Hour) | 8,715 (x5 = 43,575) |  ? | 6,169 | 331 - 1,987 |
| 27 | 18,312 (1,526 / Hour) | 9,044 (x5 = 45,220) |  ? | 6,407 | 344 - 2,066 |
| 28 | 18,828 (1,569 / Hour) | 9,372 (x5 = 46,860) |  ? | 6,644 | 357 - 2,145 |
| 29 | 19,344 (1,612 / Hour) | 9,701 (x5 = 48,505) |  ? | 6,881 | 369 - 2,217 |
| 30 | 19,848 (1,654 / Hour) | Evolve: 50,000 per attempt |  ? | 7,118 | 382 - 2,296 |
| 31 | 20,364 (1,697 / Hour) | 10,358 (x5 = 51,790) |  ? | 7,356 | 396 - 2,376 |
| 32 | 20,880 (1,740 / Hour) | 10,687 (x5 = 53,435) |  ? | 7,593 | 408 - 2,448 |
| 33 | 21,384 (1,782 / Hour) | 11,016 (x5 = 55,080) |  ? | 7,830 | 421 - 2,527 |
| 34 | 21,899 (1,825 / Hour) | 11,344 (x5 = 56,720) |  ? |  ? |  ? - ? |
| 35 | 22,416 (1,868 / Hour) | 11,673 (x5 = 58,365) |  ? |  ? |  ? - ? |
| 36 | 22,920 (1,910 / Hour) | 12,002 (x5 = 60,010) |  ? |  ? |  ? - ? |
| 37 | 23,436 (1,953 / Hour) | 12,330 (x5 = 61,650) |  ? |  ? |  ? - ? |
| 38 | 23,952 (1,996 / Hour) | 12,659 (x5 = 63,295) |  ? |  ? |  ? - ? |
| 39 | 24,468 (2,039 / Hour) | 12,988 (x5 = 64,940) |  ? |  ? |  ? - ? |
| 40 | 24,972 (2,081 / Hour) | MAX |  ? | 9,491 | 510 - 3,060 |
Total Crops to Max: 1,213,790