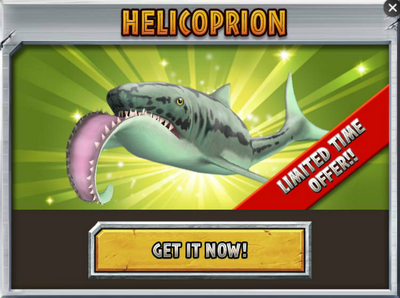 Battle Weakness: Swipe
Battle Class: Gold
Diet: Piscivore
Helicoprion is a long-lived genus of exitinct, shark-like eugeneodontid holocephalid fish. Almost all fossil specimens are spirally arranged clusters of the individuals' teeth, called "tooth whorls". Helicoprion first arose in the oceans of the early Permian 290 mya, survived the Permian-Triassic extinct event, and eventually became extinct during the Early Triassic, 250 mya. The closest living relatives of Helicoprion are the chimaeras.
In 2011, a tooth whorl from a Helicoprion was discovered in the Phosphoria site in Idaho. The tooth whorl measured 45 cm (18 in) in length. Comparisons with other Helicoprion specimens show that the animal that sported this whorl would have been 10 m (33 ft) in length, and another, even bigger tooth whorl that was discovered in 1980s (but was not published until 2013) which the discoverers dubbed "Boise" was discovered at the same site. The whorl is incomplete, but in life it would have been 60 cm (24 in) long and would have belonged to an animal that possibly exceeded 12 m (39 ft) in length, making Helicoprion the largest known eugeneodont.
Information
Cost and Time to Hatch
Availability
Limited
DNA Research
15,000 x10
Placement Cost
61,450
Incubation Time
6:03:00
XP
614
Dimensions
5X5

Initial Message: The lower jaw of the Helicoprion was composed of a coil of teeth.

First Evolution Message: The Helicoprion would replace its old teeth by new teeth concealed in its skin.

Second Evolution Message: Some scientists think that the Helicoprion's coil of teeth could have been used as a weaponized elephant trunk.

Third Evolution Message: The name Helicoprion means "Spiral saw" in Greek.
Level-Based Stats
| Level | Unmodified Earning Rates (7 Hrs) | Feeding Costs (Fish) | Ferocity | Life | Attack |
| --- | --- | --- | --- | --- | --- |
| 1 | 4,550 (650 / Hour) | 455 (x5 = 2,275) |  ? | N/A | N/A - N/A |
| 2 | 5,019 (717 / Hour) | 754 (x5 = 3,770) |  ? | N/A | N/A - N/A |
| 3 | 5,481 (783 / Hour) | 1,053 (x5 = 5,265) |  ? | N/A | N/A - N/A |
| 4 | 5,950 (850 / Hour) | 1,353 (x5 = 6,765) |  ? | N/A | N/A - N/A |
| 5 | 6,419 (917 / Hour) | 1,652 (x5 = 8,260) |  ? | 797 | 62 - 374 |
| 6 | 6,881 (983 / Hour) | 1,951 (x5 = 9,755) |  ? | 956 | 74 - 446 |
| 7 | 7,349 (1,050 / Hour) | 2,251 (x5 = 11,255) |  ? | 1,115 | 86 - 518 |
| 8 | 7,819 (1,117 / Hour) | 2,550 (x5 = 12,750) |  ? | 1,274 | 98 - 590 |
| 9 | 8,281 (1,183 / Hour) | 2,849 (x5 = 14,245) |  ? | 1,434 | 111 - 669 |
| 10 | 8,750 (1,250 / Hour) | Evolve: 25,000 per attempt |  ? | 1,593 | 123 - 741 |
| 11 | 9,219 (1,317 / Hour) | 3,448 (x5 = 17,240) |  ? | 1,752 | 135 - 813 |
| 12 | 9,681 (1,383 / Hour) | 3,748 (x5 = 18,740) |  ? | 1,911 | 147 - 885 |
| 13 | 10,150 (1,450 / Hour) | 4,047 (x5 = 20,235) |  ? | 2,071 | 160 - 964 |
| 14 | 10,619 (1,517 / Hour) | 4,346 (x5 = 21,730) |  ? | 2,230 | 172 - 1,036 |
| 15 | 11,081 (1,583 / Hour) | 4,646 (x5 = 23,230) |  ? | 2,389 | 184 - 1,108 |
| 16 | 11,550 (1,650 / Hour) | 4,945 (x5 = 24,725) |  ? | 2,548 | 196 - 1,180 |
| 17 | 12,019 (1,717 / Hour) | 5,244 (x5 = 26,220) |  ? | 2,708 | 210 - 1,260 |
| 18 | 12,481 (1,783 / Hour) | 5,544 (x5 = 27,720) |  ? | 2,867 | 222 - 1,332 |
| 19 | 12,950 (1,850 / Hour) | 5,843 (x5 = 29,215) |  ? | 3,026 | 234 - 1,404 |
| 20 | 13,419 (1,917 / Hour) | Evolve: 35,000 per attempt |  ? | 3,185 | 246 - 1,476 |
| 21 | 13,881 (1,983 / Hour) | 6,442 (x5 = 32,210) |  ? | 3,345 | 258 - 1,548 |
| 22 | 14,349 (2,050 / Hour) | 6,741 (x5 = 33,705) |  ? | 3,504 | 271 - 1,627 |
| 23 | 14,819 (2,117 / Hour) | 7,041 (x5 = 35,205) |  ? | 3,663 | 283 - 1,699 |
| 24 | 15,280 (2,183 / Hour) | 7,340 (x5 = 36,700) |  ? | 3,822 | 295 - 1,771 |
| 25 | 15,750 (2,250 / Hour) | 7,639 (x5 = 38,195) |  ? | 3,982 | 307 - 1,843 |
| 26 | 16,219 (2,317 / Hour) | 7,939 (x5 = 39,695) |  ? | 4,141 | 320 - 1,922 |
| 27 | 16,681 (2,383 / Hour) | 8,238 (x5 = 41,190) |  ? | 4,300 | 332 - 1,994 |
| 28 | 17,150 (2,450 / Hour) | 8,537 (x5 = 42,685) |  ? | 4,459 | 344 - 2,066 |
| 29 | 17,619 (2,517 / Hour) | 8,837 (x5 = 44,185) |  ? | 4,619 | 356 - 2,138 |
| 30 | 18,081 (2,583 / Hour) | Evolve: 50,000 per attempt |  ? | 4,778 | 369 - 2,217 |
| 31 | 18,550 (2,650 / Hour) | 9,436 (x5 = 47,180) |  ? | 4,937 | 381 - 2,289 |
| 32 | 19,019 (2,717 / Hour) | 9,735 (x5 = 48,675) |  ? | 5,096 | 393 - 2,361 |
| 33 | 19,481 (2,783 / Hour) | 10,034 (x5 = 50,170) |  ? |  ? |  ? - ? |
| 34 | 19,950 (2,850 / Hour) | 10,334 (x5 = 51,670) |  ? |  ? |  ? - ? |
| 35 | 20,419 (2,917 / Hour) | 10,633 (x5 = 53,165) |  ? |  ? |  ? - ? |
| 36 | 20,881 (2,983 / Hour) | 10,932 (x5 = 54,660) |  ? | 5,733 | 442 - 2,656 |
| 37 | 21,350 (3,050 / Hour) | 11,232 (x5 = 56,160) |  ? | 5,893 | 454 - 2,728 |
| 38 | 21,819 (3,117 / Hour) | 11,531 (x5 = 57,655) |  ? | 6,052 | 468 - 2,808 |
| 39 | 22,281 (3,183 / Hour) | 11,830 (x5 = 59,150) |  ? | 6,211 | 480 - 2,880 |
| 40 | 22,750 (3,250 / Hour) | MAX |  ? | 6,370 | 492 - 2,952 |
Total Fish to Max: 1,105,650
Helicoprion Level 40
Tournament-Battle Arena Profile Picture
Helicoprion in Battle
Helicoprion Level 40 Pictures