Geosaurus is the second best aquatic creature in Jurassic Park Builder. Mosasaurus is currently the best, Geo is very close. You can unlock it by doing expeditions and finding the DNA Sample.
- Ferocity is very close compared to Mosasaurus. Does not cost Bucks.
- Eats Krill/Crustaceans.
- Pronounced : Gee-o-sore-us.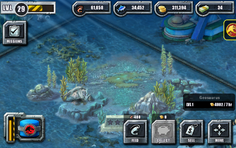 Battle Weakness: Swipe
Battle Class: Gold
Information
Cost and Time to Hatch
Availability
Limited
DNA Research
15,000 x10
Placement Cost
93,350
Incubation Time
06:03:00
XP
934 + 1,452
Dimensions
6x6

Initial Message: Geosaurus means "Earth Lizard" in Greek.

First Evolution Message: Even if the name of the Geosaurus relates to Earth, it spent its life underwater.

Second Evolution Message: Crocodiles are remote ancestors of the Geosaurus.

Third Evolution Message:
Level-Based Stats
| Level | Unmodified Earning Rates (7 Hrs) | Feeding Costs (Crustaceans) | Ferocity | Life | Attack |
| --- | --- | --- | --- | --- | --- |
| 1 | 4,802 (686 / Hour) | 480 (x5 = 2,400) | N/A | N/A | N/A - N/A |
| 2 | 5,292 (756 / Hour) | 795 (x5 = 3,975) | N/A | N/A | N/A - N/A |
| 3 | 5,782 (826 / Hour) | 1,111 (x5 = 5,555) | N/A | N/A | N/A - N/A |
| 4 | 6,279 (897 / Hour) | 1,427 (x5 = 7,135) | N/A | N/A | N/A - N/A |
| 5 | 6,769 (967 / Hour) | 1,743 (x5 = 8,715) | 159 | 1,140 | 61 - 367 |
| 6 | 7,259 (1,037 / Hour) | 2,059 (x5 = 10,295) | 191 | 1,368 | 74 - 446 |
| 7 | 7,756 (1,108 / Hour) | 2,374 (x5 = 11,870) | 223 | 1,596 | 86 - 516 |
| 8 | 8,246 (1,178 / Hour) | 2,690 (x5 = 13,450) | 255 | 1,824 | 98 - 590 |
| 9 | 8,736 (1,248 / Hour) | 3,006 (x5 = 15,030) | 287 | 2,052 | 110 - 662 |
| 10 | 9,233 (1,319 / Hour) | Evolve: 25,000 per attempt | 318 | 2,280 | 122 - 734 |
| 11 | 9,723 (1,389 / Hour) | 3,638 (x5 = 18,190) |  ? | 2,508 | 135 - 813 |
| 12 | 10,213 (1,459 / Hour) | 3,953 (x5 = 19,765) |  ? | 2,736 | 147 - 885 |
| 13 | 10,710 (1,530 / Hour) | 4,269 (x5 = 21,345) |  ? | 2,964 | 159 - 957 |
| 14 | 11,200 (1,600 / Hour) | 4,585 (x5 = 22,925) |  ? | 3,182 | 171 - 1,029 |
| 15 | 11,690 (1,670 / Hour) | 4,901 (x5 = 24,505) |  ? | 3,420 | 183 - 1,101 |
| 16 | 12,187 (1,741 / Hour) | 5,217 (x5 = 26,085) |  ? | 3,648 | 196 - 1,180 |
| 17 | 12,677 (1,811 / Hour) | 5,533 (x5 = 27,665) |  ? | 3,876 | 208 - 1,252 |
| 18 | 13,166 (1,881 / Hour) | 5,848 (x5 = 29,240) |  ? | 4,104 | 220 - 1,324 |
| 19 | 13,663 (1,952 / Hour) | 6,164 (x5 = 30,820) |  ? | 4,332 | 232 - 1,396 |
| 20 | 14,154 (2,022 / Hour) | Evolve: 35,000 per attempt |  ? | 4,560 | 244 - 1,468 |
| 21 | 14,644 (2,092 / Hour) | 6,796 (x5 = 33,980) |  ? | 4,788 | 258 - 1,548 |
| 22 | 15,141 (2,163 / Hour) | 7,112 (x5 = 35,560) |  ? | 5,016 | 270 - 1,620 |
| 23 | 15,631 (2,233 / Hour) | 7,427 (x5 = 37,135) |  ? | 5,244 | 282 - 1,692 |
| 24 | 16,121 (2,303 / Hour) | 7,743 (x5 = 38,715) |  ? | 5,472 | 294 - 1,764 |
| 25 | 16,618 (2,374 / Hour) | 8,059 (x5 = 40,295) |  ? | 5,700 | 306 - 1,836 |
| 26 | 17,108 (2,444 / Hour) | 8,375 (x5 = 41,875) |  ? | | - |
| 27 | 17,598 (2,514 / Hour) | 8,691 (x5 = 43,455) |  ? | | - |
| 28 | 18,095 (2,585 / Hour) | 9,007 (x5 = 45,035) |  ? | | - |
| 29 | 18,585 (2,655 / Hour) | 9,322 (x5 = 46,610) |  ? | | - |
| 30 | 19,075 (2,725 / Hour) | Evolve: 50,000 per attempt |  ? | | - |
| 31 | 19,572 (2,796 / Hour) | 9,954 (x5 = 49,770) |  ? | | - |
| 32 | 20,062 (2,866 / Hour) | 10,270 (x5 = 51,350) |  ? | | - |
| 33 | 20,552 (2,936 / Hour) | 10,586 (x5 = 52,930) |  ? | | - |
| 34 | 21,049 (3,007 / Hour) | 10,901 (x5 = 54,505) |  ? | | - |
| 35 | 21,539 (3,077 / Hour) | 11,217 (x5 = 56,085) |  ? | 7,980 (Ferocity 1,113) | 428 - 2,570 |
| 36 | 22,029 (3,147 / Hour) | 11,533 (x5 = 57,665) |  ? | 8,208 (Ferocity 1,145) | 441 - 2,649 |
| 37 | 22,526 (3,218 / Hour) | 11,849 (x5 = 59,245) |  ? | 8,436 (Ferocity 1,177) | 453 - 2,721 |
| 38 | 23,016 (3,288 / Hour) | 12,165 (x5 = 60,825) |  ? | 8,664 (Ferocity 1,209) | 465 - 2,793 |
| 39 | 23,506 (3,358 / Hour) | 12,480 (x5 = 62,400) |  ? | | - |
| 40 | 24,003 (3,429 / Hour) | MAX |  ? | 1 | 1 - 1 |
Total Crustaceans to Max: 1,166,400
Dates of Availability/Sale In The Game:
Tournament/Battle Arena Profile Pictures
Dinosaur in Action
Pictures Level By Level