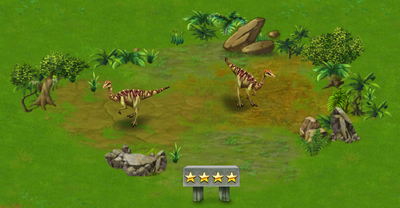 Battle Weakness: Swipe
Battle Class : Silver
Gallimimus (/ˌɡælɪˈmaɪməs/ GAL-i-MY-məs) is a genus of theropod dinosaur that lived in modern day Mongolia during the Late Cretaceous period, about 70 million years ago. Gallimimus was the largest known ornithomimid; adult height was about 6 metres (20 ft) long, 1.90 metres (6.2 ft) tall at the hip, and weighing about 440 kilograms (970 lb).
Like its relative Ornithomimus, it would have had feathers, with adults having wing-like structures on the forelimbs. The vertebrae had hollow depressions which made them pneumatic (air filled), and the neck was long. The hands were proportionally the shortest of any ornithomimosaur, and had three digits with curved claws. The forelimbs were weak while the hindlimbs were proportionally long. The head was small and light with large eyes that faced to the sides. The snout was long compared to other ornithomimids, although it was broader and more rounded at the tip than other species. Gallimimus was toothless and had a keratinous beak, with a delicate shovel-like lower jaw.
Information
Cost and Time to Hatch
Availability
Market
DNA Research
1,600 x10
Placement Cost
100,050
Incubation Time
12:48:00
XP
1,001
Dimensions
7x7

Initial Message: Gallimimus' name means "chicken mimic".

First Evolution Message: The Gallimimus had no teeth.

Second Evolution Message: The Gallimimus had short arms probably used to dig and find food in the ground or possibly feed on eggs.

Third Evolution Message: The Gallimimus received its name because it looked like a 500-pound chicken and could run at 30 miles per hour.
Level-Based Stats
| Level | Unmodified Earning Rates (8 Hrs) | Feeding Costs (Crops) | Ferocity | Life | Attack |
| --- | --- | --- | --- | --- | --- |
| 1 | 2,432 (304 / Hour) | 243 (x5 = 1,215) | - | N/A | N/A - N/A |
| 2 | 2,680 (335 / Hour) | 402 (x5 = 2,010) | - | N/A | N/A - N/A |
| 3 | 2,928 (366 / Hour) | 562 (x5 = 2,810) | - | N/A | N/A - N/A |
| 4 | 3,176 (397 / Hour) | 722 (x5 = 3,610) | - | N/A | N/A - N/A |
| 5 | 3,424 (428 / Hour) | 882 (x5 = 4,410) | 49 | 395 | 31 - 187 |
| 6 | 3,680 (460 / Hour) | 1,042 (x5 = 5,210) | 58 | 474 | 37 - 223 |
| 7 | 3,927 (491 / Hour) | 1,202 (x5 = 6,010) | 68 | 553 | 43 - 259 |
| 8 | 4,176 (522 / Hour) | 1,362 (x5 = 6,810) | 78 | 632 | 49 - 295 |
| 9 | 4,424 (553 / Hour) | 1,522 (x5 = 7,610) | 87 | 711 | 55 - 331 |
| 10 | 4,672 (584 / Hour) | Evolve: 7,450 per attempt | 97 | 790 | 61 - 367 |
| 11 | 4,920 (615 / Hour) | 1,841 (x5 = 9,205) | 107 | 869 | 67 - 403 |
| 12 | 5,168 (646 / Hour) | 2,001 (x5 = 10,005) | 116 | 948 | 73 - 439 |
| 13 | 5,424 (678 / Hour) | 2,161 (x5 = 10,805) | 126 | 1,027 | 79 - 475 |
| 14 | 5,672 (709 / Hour) | 2,321 (x5 = 11,605) | 136 | 1,106 | 85 - 511 |
| 15 | 5,920 (740 / Hour) | 2,481 (x5 = 12,405) | 145 | 1,185 | 91 - 547 |
| 16 | 6,168 (771 / Hour) | 2,641 (x5 = 13,205) | 155 | 1,264 | 97 - 583 |
| 17 | 6,416 (802 / Hour) | 2,801 (x5 = 14,005) | 165 | 1,343 | 103 - 619 |
| 18 | 6,664 (833 / Hour) | 2,960 (x5 = 14,800) | 174 | 1,422 | 109 - 655 |
| 19 | 6,920 (865 / Hour) | 3,120 (x5 = 15,600) | 184 | 1,501 | 115 - 691 |
| 20 | 7,168 (896 / Hour) | Evolve: 15,050 per attempt | 194 | 1,580 | 121 - 727 |
| 21 | 7,416 (927 / Hour) | 3,440 (x5 = 17,200) | 203 | 1,659 | 127 - 763 |
| 22 | 7,664 (958 / Hour) | 3,600 (x5 = 18,000) | 213 | 1,738 | 133 - 799 |
| 23 | 7,912 (989 / Hour) | 3,760 (x5 = 18,800) | 223 | 1,817 | 139 - 835 |
| 24 | 8,160 (1,020 / Hour) | 3,920 (x5 = 19,600) | 232 | 1,896 | 145 - 871 |
| 25 | 8,408 (1,051 / Hour) | 4,080 (x5 = 20,400) | 242 | 1,975 | 151 - 907 |
| 26 | 8,664 (1,083 / Hour) | 4,240 (x5 = 21,200) | 252 | 2,054 | 157 - 943 |
| 27 | 8,912 (1,114 / Hour) | 4,399 (x5 = 21,995) | 261 | 2,133 | 163 - 979 |
| 28 | 9,160 (1,145 / Hour) | 4,559 (x5 = 22,795) | 271 | 2,212 | 169 - 1,015 |
| 29 | 9,408 (1,176 / Hour) | 4,719 (x5 = 23,595) | 281 | 2,291 | 175 - 1,051 |
| 30 | 9,656 (1,207 / Hour) | Evolve: 17,500 per attempt | 290 | 2,370 | 181 - 1,087 |
| 31 | 9,904 (1,238 / Hour) | 5,039 (x5 = 25,195) | 300 | 2,449 | 187 - 1,123 |
| 32 | 10,160 (1,270 / Hour) | 5,199 (x5 = 25,995) | 310 | 2,528 | 193 - 1,159 |
| 33 | 10,408 (1,301 / Hour) | 5,359 (x5 = 26,795) | 319 | 2,607 | 199 - 1,195 |
| 34 | 10,656 (1,332 / Hour) | 5,519 (x5 = 27,595) | 329 | 2,686 | 205 - 1,231 |
| 35 | 10,904 (1,363 / Hour) | 5,678 (x5 = 28,390) | 339 | 2,765 | 211 - 1,267 |
| 36 | 11,152 (1,394 / Hour) | 5,838 (x5 = 29,190) | 348 | 2,844 | 218 - 1,310 |
| 37 | 11,400 (1,425 / Hour) | 5,998 (x5 = 29,990) | 358 | 2,923 | 224 - 1,346 |
| 38 | 11,648 (1,456 / Hour) | 6,158 (x5 = 30,790) | 368 | 3,002 | 230 - 1,382 |
| 39 | 11,904 (1,488 / Hour) | 6,318 (x5 = 31,590) | 377 | 3,081 | 236 - 1,418 |
| 40 | 13,306 (1,663 / Hour) | MAX | 387 | 3,159 | 242 - 1,454 |
Total Crops to Max: 590,445
Gallimimus Level 40
Tournament-Battle Arena Profile Picture
Gallimimus in Battle
Gallimimus Level 40 Pictures